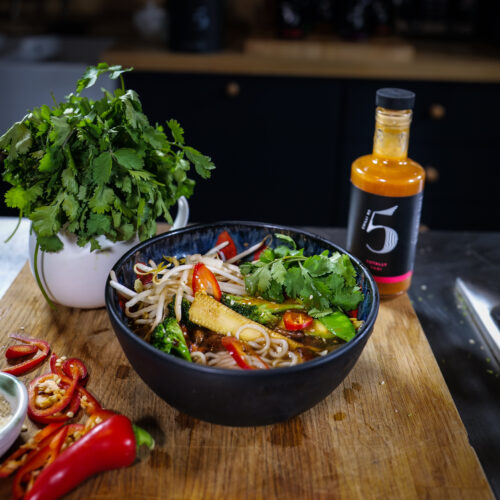 Vegan Asian Fusion Ramen
Just in time for Veganuary, this superfood recipe for Vegan Asian Fusion Ramen boasts a flavour-packed broth made with dried porcini mushrooms, ginger, lemongrass, galangal, garlic, red chillies, and star anise. Nestling in this tasty broth are rice noodles, broccoli, baby corn, mange tout, cashews, chilli, and sesame seeds – lots of healthy goodness for you.
Many of the ingredients are rich in antioxidants and vitamins. Porcini mushrooms are packed with iron, an essential mineral, while chillies offer an incredible range of health benefits, including helping to reduce stress and improve energy.
This recipe is brimming with the flavours of Asia and works perfectly with Chilli No. 5's Totally Thai hot sauce, filled with antioxidants to energise your day. 
Equipment
Large pan

Cooking pot

Kitchen Knife
Ingredients
For the Broth
200 g Dried Porcini Mushrooms
1 thumb Ginger
1 Galangal root
2 sticks Lemongrass
2 Red Chillis
50 g Raw Cane Sugar
Star Anise
1 bulb Garlic
2 Lime (Juice)
1.5 liters Boiling Water
1 bottle Totally Thai Chilli No. 5
For the Bulk
400 g Rice noodles (Presoaked)
1 head Brocoli
8 Baby Corn
100 g Mange tout
100 g Cashews
Sesame Seeds
Rehydrated porchini mushrooms
Pinch of beansprouts
100 g Mushrooms
To Finish
Coriander
Red Chillis
Seasame Seeds 
Totally Thai Chilli No. 5
Instructions
Add all of the broth ingredients to the water in a large pan, holding back half of the porchini mushrooms. Simmer on a low heat for 90 mins

Pre-soak the rest of the porchini mushrooms to rehydrate in a little cold water, and do the same with the rice noodles in a separate bowl

When the broth is ready, strain off and keep hot.

Stir fry the cashews, Broccoli, corn, mange tout, fresh mushrooms and the rehydrated mushrooms.

Add the pre soaked noodles to a bowl and load up with the stir fry mix
Video