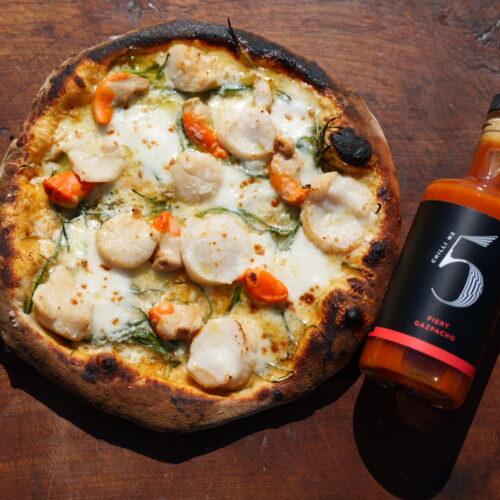 Spicy Seafood Pizza
Today we have a Pescatarian's dream pizza, created with Chilli No. 5 Fiery Gazpacho sauce & Pizza Pizzazz Chilli Oil. 
This pizza is loaded with plump fresh scallops, mozzarella, cheddar cheese, monks beard, and our Gazpacho sauce. Cook in a pizza oven until the cheese is bubbling and the crust is golden brown, then drizzle with our Pizza Pizzaz Chili Oil and serve. 
The ingredients in this dish offer a wide range of health benefits. Scallops are a naturally low carbohydrate food. High in protein they are nutrient-rich providing a wide range of vitamins and minerals. Monks beard is a good source of vitamin C , B complex vitamins, iron, potassium and magnesium, much like spinach and other leafy greens. Marry that with our Chilli No.5 Fiery Gazpacho sauce, which is packed with superfoods and supplements, and this fiery health monster is not just delicious, it's also a superfood giant.
Enjoy with a chilled glass of white wine or beer for the ultimate pizza night. 
Equipment
Pizza Oven

Serving board

Rolling Pin

Pizza paddle
Ingredients
100

g

Pizza Dough

300

g

Fresh scallops

1

Bunch monks beard

Fresh mozzarella

100

g

Cheddar cheese

1

Lemon
White flour for dough preparation
Instructions
Turn on the pizza oven and heat to around 300 degrees.

Flour a large board, and roll out a tennis ball size piece of pizza dough to approx 9 inches wide.

Flour the pizza paddle and slide the pizza base onto the paddle.

Pour on 3 tbs of the fiery gazpacho sauce onto the pizza base and spread to cover the base.

Sprinkle on a handful of the monks beard.

Then cut the roe off the main scallops and add to the pizza.

Then grate the cheddar over the base.

Tear the mozzarella into small pieces and add to the base.

Add remaining scallops.

Drizzle the pizza pizzazz oil over the pizza.

Slid the pizza off the paddle into the over and cook for 8 minutes or until cheese is bubbling and crust is golden brown.
Video
Notes
Subscribe to Chilli No. 5 on YOUTUBE.
Follow Chilli No. 5 on instagram.  
Find Chilli No.5 on Google 
For access to all our superfood recipes and products.