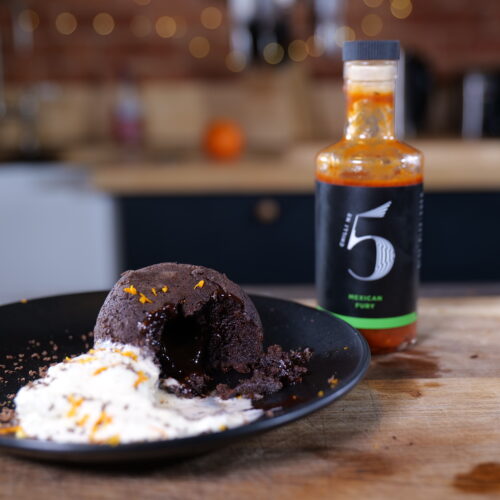 Mexican Chocolate Fondant
On today's edition of Superfood Mondays, we have a recipe for an indulgent Mexican Chocolate Fondant – made with rich dark chocolate, cocoa powder, eggs, butter, and caster sugar, then baked to perfection in the oven. 
This recipe is full of dark chocolate, which is rich in antioxidants and nutrients. Dark chocolate is naturally high in iron, magnesium, manganese, and copper. It's good for the heart, the skin, and may even help improve brain function.
For extra pizzazz, we've added Chilli No. 5's Mexican Fury hot sauce. Not only does the hot sauce add a powerful burst of flavour, but it also adds extra health benefits to energise your day. 
Ingredients
150

g

Butter

plus extra for greasing

150

g

Dark chocolate (60-70% cocoa solids)

roughly chopped or broken into small chunks

90

g

Plain flour (25g for moulds, 75g for cake mix)

25

g

Cocoa Powder

3

Large eggs

3

Large egg yolks

200

g

Caster sguer

1

bottle

Chilli No. 5 Mexican Fury Hot sauce
Instructions
Preheat the oven to 190 ̊C/170 ̊C fan/Gas 5

Grease 4 x 220ml moulds or ramekins with butter

Mix together the cocoa powder and 25g of plain flour and dust the inside of the

moulds, place them on a baking sheet and set aside

Melt together butter and chocolate into a large heatproof bowl au Bain Marie,

stirring occasionally

Remove from the heat, sift over the flour and whisk to incorporate

In a separate bowl, whisk together the eggs, egg yolks and sugar until

combined, then whisk this into the chocolate mixture, until smooth and well

combined

Pour the chocolate mixture into the prepared moulds or ramekins, dividing

equally

Bake for 9 minutes – the fondants are ready when you shake each one gently

and only the middle moves a little, but edges are firm to touch.

Remove from the oven, using a sharp knife, gently loosen sides of each mould.

Using a palette knife carefully remove fondant & placeonto a Cocoa dusted plate, gently pierce edges and drizzle with ​Mexican Fury

Serve with vanilla bean ice cream and salted caramel popcorn
Video
Notes
Health benefits from recipe
Dark Chocolate:​ good for the heart, rich in Iron, Magnesium, Potassium and Copper,
Egg​: 40% of daily vitamin D requirements and contains Choline, which is important for good cell function, rich in fatty acids and antioxidants.
Superfoods in sauce:
Lime juice​: Rejuvenates skin and fights infection.
Jalapeños:​ Antioxidant and rich in vitamin C.
Fresh thyme:​ Helps fighting cold, sore throat and cough.