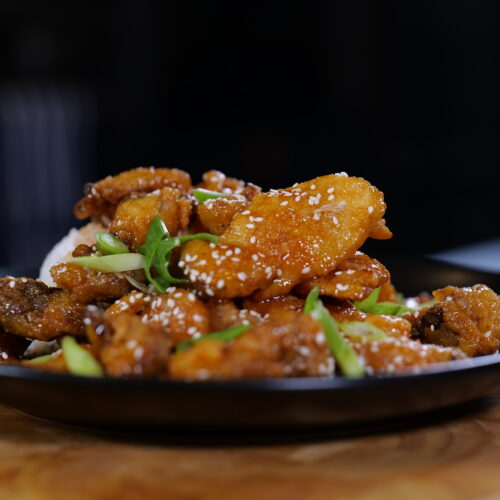 Sticky, Spicy & Crispy Japanese-fried Wild mushroom on steamed rice
Welcome to Superfood Mondays with Chilli No. 5. 
Bringing the healthiest & tastiest recipes for you to try at home.
This week we bring you Glazed Japanese Style Wild Mushrooms served with fluffy & fragrant steamed rice. These mushrooms are fried using the "karageé" technique and are crunchy yet deliciously sticky and spicy.
They are also healthy and rich in selenium and low in sodium and calories. Great for maintaining good cell function and reducing the risk of heart disease. 
This asian inspired dish is an excellent meat replacement. Using our Chilli No. 5 Regal Red Pepper hot sauce is the perfect way to simplify the preparation and mixed with honey it will add natural sweetness and an irresistible tangy kick! 
Ingredients
400 g Oyster Mushrooms
3 Garlic cloves
20 g Ginger 

29

ml

Toasted Sesame oil

50

g

Potato starch

(& Rice flour"Optional")

1

tbsp

Sesame seeds

1

Korean Gochugaru

(Red pepper flakes "Optional")

1 Bottle Chilli No.5 Regal Red Pepper sauce
1 Tbsp Sake or Xiao xing wine
2 Tbsp GF Soy sauce or Tamari
¼ cup Honey

20

ml

Canola or Peanut Oil for Frying 
50 g Scallion greens
1 Egg
Instructions
Divide the Mushrooms into smaller clusters roughly half the size of your hand and remove the hard core. Marinate for 30 minutes in a large bowl with the Xiao Xing wine, soy sauce, 2 tsp of sesame oil and finely minced garlic and ginger.

In the meantime, prepare a container with an abundant amount of potato starch.

Drizzle with a small amount of water onto the starch and crumble with your hands to form some small crumbs.

At this point remove excess marinade from the mushrooms, add a beaten egg and gently incorporate.

Dredge in potato starch and fry at 180°C until golden and crispy, lifting for a few seconds each piece to simulate a double fry effect and helping crisp up the mushrooms.

Rest for a moment on a wire rack or paper towel.

In a pan, warm up Honey and ​Chilli No.5 Regal Red Pepper​ hot sauce and simmer until sticky.

Add the crispy Oyster mushrooms and a little Gochugaru and toss to coat.Serve on steamed rice and garnish with sesame seeds and thinly sliced scallions.
Video
Notes
Health benefits from recipe:
Gluten Free Recipe
Oyster mushrooms:​ Good source of Selenium, Low in sodium and calories.
Egg:​ 40% of daily vitamin D requirements and contain Choline, which is important for good cell function, rich in fatty acids and antioxidants.
Honey​: Best natural sweetener and antioxidant.
Superfoods in sauce:
Red onion​: helps boost bone density and thus preventing osteoporosis, high in vitamin C, as well as being rich in B vitamins and potassium, minerals, rich in antioxidants, helps reduce heart disease, diabetes and high blood sugar.
Red Pepper:​ High in vitamin A, incredibly high in vitamin C (more than 200% of daily recommended intake for 100g).