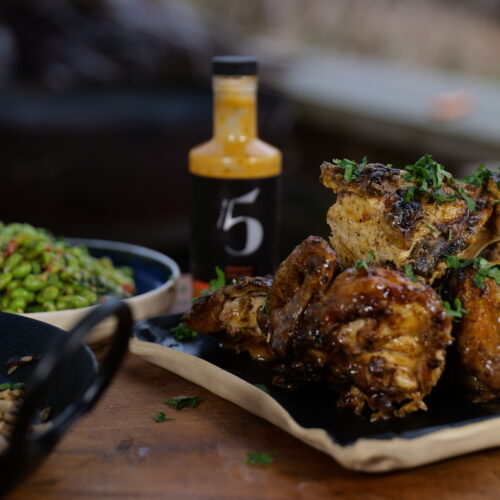 Spatchcock Piri Piri BBQ Chicken & Macho Peas
Welcome to Superfood Mondays with Chilli No. 5.  
Bringing the healthiest, tastiest and spicy recipes for you to try at home. 
Today we have a spicy and healthy twist on a Southern Classic. Piri Piri Whole BBQ Chicken with Macho Beans and Spicy Rice.
Grilled chicken and rice is a classic combination of ingredients for those trying to eat a balanced healthy diet, and rightly so as collectively it provides everything that the body needs. 
Often it's the sauces and flavorings that make this seemingly healthy dish less so, with lots of hidden sugars and salt in the sauces and marinades. 
Chilli No. 5's Perfect Piri Piri hot sauce is quite the opposite. It is packed full of vitamins, antioxidants, superfoods, and natural ingredients, to energise your day. It is also low on sugar and sodium too, making it a great choice for those who want to embrace a healthy lifestyle. 
Absolutely delicious, it takes its rightful place as the star of the show in this dish! 
A super fresh, nutritious and delicious spring Chicken Piri Piri BBQ dish that we love, and WE know YOU will too.
Equipment
Cutting Board

Chopping Knife

Bowls

Pan

BBQ
Ingredients
1

Bottle

Chilli No. 5's Perfect Piri Piri

2

Medium chickens

500

g

Cooked Brown Rice

1

Red onion

finely chopped 

500

g

Edamame peas

50

g

Butter

1

tbsp

Chopped garlic

1

tbsp

Chopped chilli 

1

tspn

All spice

1/2

Fresh Lemon

Chopped mint

1

tspn

Black pepper

1

tspn

Ground Coriander

1

tspn

Cayenne Pepper

 1

tspn

Smoked Paprika

Pinch of sea salt 

Olive Oil
Instructions
Mix all of the spices together in a bowl with the sea salt

Spatchcock the chickens and score incisions across the thickest parts of the thighs and breast to allow even cooking.

Rub the chickens thoroughly with half of the spice mix, making sure to massage into all of the incisions and evenly all over the birds. 

Grill the chickens directly over a medium to low heat BBQ, turning regularly with more time spent bone side down to protect the skin from burning. If you don't have a BBQ place on a tray bone side down and bake in an oven at 190c until cooked through (internal temp of 72c or higher in the thickest part)  set aside to rest. 

Take a frying pan and fry the onions in a little oil with a pinch of salt, and cook down until almost crispy. 

Meanwhile in a saucepan, take the butter and melt over a medium heat, before adding the chilli, garlic and finally the peas and cook on a low heat for 10 mins stirring occasionally 

Meanwhile come back to the frying pan, and add the cold cooked brown rice and stir through the onions before adding in the remainder of the spice mix from the chicken. Stir through and allow to rest. 

Finally portion up the chicken, add to a bowl and pour over an entire bottle of the Chilli No. 5's Perfect Piri Piri sauce, and toss the pieces in the bowl allowing the sauce to liberally cover each piece. 

Finish the peas with a squeeze of lemon and the chopped mint and serve immediately.
Video