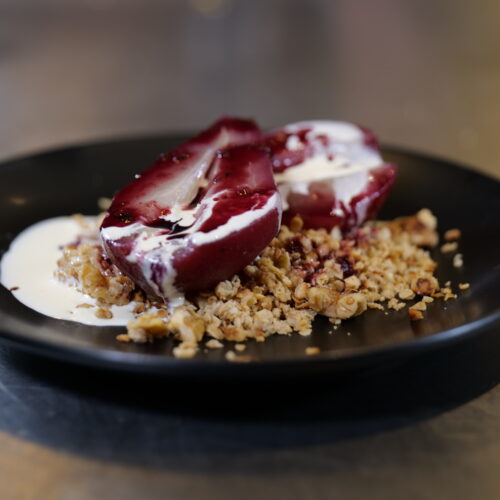 Chilli Poached Pears
Welcome to Superfood Mondays with Chilli No. 5. 
Bringing the healthiest & tastiest recipes for you to try at home.
Today we have a delicious recipe for Poached Pears – gently simmered to perfection in red wine, ginger, cinnamon, lemon zest, and orange juice, and served with a honey nut oat crumb, alongside juicy plums and apricots.  
Pears are a well known superfood, said to help fight inflammation, promote good gut and heart health, and aid weight loss. The addition of antioxidant and nutrient rich apricots, plums, and cinnamon adds extra health benefits to this amazing recipe.
Packed full of flavour, this recipe works perfectly with Chilli No. 5's Jamaican Jerk Hot Sauce, which not only adds extra depth of flavour, but is also packed with antioxidants to energise your day. 
Equipment
Pot

Cooking Knife

cooking board
Ingredients
4 Large Pears
1 Bottle Red Wine
200 g Cane Sugar
2 Cinnamon quills
1 Lemon zest 
1 Orange

zest & juice

20 g Ginger

grated

40 g Dried Plum

diced 

40 g Dried Apricots

diced 

100 g Oats
50 g Butter
1 Bottle Chilli No. 5 Jamaican Jerk sauce
Instructions
Pour red wine into a pan deep enough to cover the pears.

Place sugar, ginger, cinnamon, zest of the lemon and orange along with the juice, and add Chilli No. 5's Jamaican Jerk hot sauce, bring to a simmer.

Add diced plum, apricots, peeled pears, (core intact) 

Cook on a simmer for approximately 90 minutes. 

Remove from the heat and leave to stand for 10 minutes

Using a small paring knife gently cut a slice across the base, then remove the core.

Place oats into a frying pan with butter and cook lightly for 5 minutes until toasted and resemble muesli.

Place on a plate add plums and apricots, and top with pear. 
Video
Notes
Health benefits from recipe:
Pear
: fights inflammation, promotes good gut and heart health, helps in weight loss.
Apricots
: Improve heart function, helps prevent anemia and osteoporosis and promotes eye and skin health.
Plum
: Rich in antioxidants and reduces blood sugar, helps relieve constipation, rich in fitochemichals which help protect cell integrity.
Cinnamon
: rich in calcium and iron, full of dietary fiber, has anti-viral, antibacterial and antifungal properties, lowers your blood sugar, improves digestion and is a good source of vitamin k.
Superfoods in sauce:
Fresh thyme
: Helps fighting cold, sore throat and cough.
Lime juice
: Rejuvenates skin and fights infection.
Apple cider vinegar
: Great antioxidants and promote good digestion