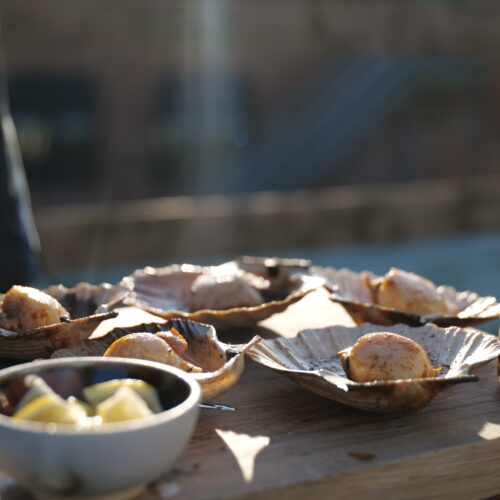 Pan-Fried Seared Scallops with Asparagus
Welcome to Superfood Mondays with Chilli No. 5. 
Bringing the healthiest & tastiest recipes for you to try at home. 
On today's edition we have a tasty recipe for pan fried scallops with asparagus.
This richly flavoured dish boasts plump king scallops BBQ'd in their shell and served with a delicate asparagus with a buttery spicy sauce.
Scallops are rich in magnesium and potassium, which can help improve brain function, while asparagus is a powerful and nutritionally balanced vegetable that is high in folic acid, potassium, fibre, and vitamins A, B6, and C. These offer multiple health benefits, including aiding digestion, helping to lower blood pressure, and assisting with weight loss. 
This recipe is full of the flavours of the sea and works perfectly with our delicious Chilli No. 5 Piri Piri hot sauce, which is packed with powerful antioxidants to energise your day. 
Equipment
Barbecue

Board

Sauté pan or Shells
Ingredients
Celery

1

Onion

1

bunch

Thyme

1

Lemon

50

ml

Olive Oil

100

g

Butter

8

8 King Scallops

(hand dived preferably)

300

ml

Chicken Stock

10

Asparagus spears

100

ml

(White Wine)

1

Bottle

Chilli No.5 Perfect Piri Piri Sauce
Instructions
Place diced onion, celery and thyme in sauté pan or shells and soften without color.

Add lemon juice and chicken stock and leave to simmer.

Remove the tough part of the stem of the asparagus. Starting from just below the spear, peel to the ends. Cut and remove spear from ¾ of the way down, add to stock. Cook for no more than 4 minutes.

Cook for no more than 4 minutes.

Prepare the scallops by removing the coral and membrane, add the coral to the stock and mix in a food processor.

Pass the mixture through a sieve and slowly whisk in the cream.

Sear the scallops on a medium heat, once seared add butter and lemon juice and white wine ( if using)
Notes
Health benefits from recipe:
Scallops: Rich in Magnesium and Potassium which help brain function, low calories.
Asparagus: It is a powerful and nutritionally balanced vegetable, rich in folic acid, potassium, fiber, vitamin A, B6 and C.
Celery: High in vitamins A, K and C, Has a low glycemic index.
Lime juice: Rejuvenates skin and fights infection.
Superfoods in sauce:
Red onion: helps boost bone density and thus preventing osteoporosis, high in vitamin C, as well as being rich in B vitamins and potassium, minerals, rich in antioxidants, helps reduce heart disease, diabetes and high blood sugar.
Red Pepper: High in vitamin A, incredibly high in vitamin C (more than 200% of daily recommended intake for 100g).