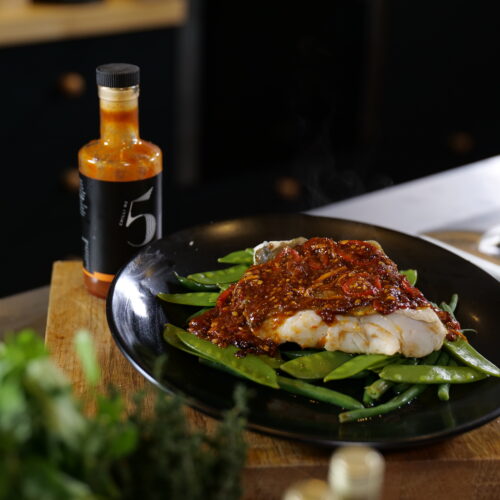 Spicy Lemongrass Steamed Cod
Welcome to Superfood Mondays with Chilli No. 5. 
Bringing the healthiest & tastiest recipes for you to try at home.
On today's edition we have a delicious recipe for Lemongrass Steamed Cod – gently steamed cod, served with sautéed Asian greens, and a flavour packed spicy sauce reduction with garlic and ginger
Cod is a great source of low-fat protein and is also rich in vitamin B12 and iodine. This is an essential mineral for our bodies that helps repair damaged cells and supports a healthy metabolism.
This recipe is not only healthy, but also bursting with flavour. It works perfectly with Chilli No. 5's Chinese Hot & Sour Sauce, which is packed with antioxidants to energise your day. 
Equipment
Bamboo Steamer

Knife

Chopping Board

Pan
Ingredients
500 g Cod
6 Stalks Lemongrass

200

g

Asian Greens (Mangetout / Green Beans)

1

thumb

Ginger

1

clove

Garlic

1

tbsp

Soy Sauce

1

Lime

1

Chilli

1

tbsp

Black & white sesame seed

200

ml

Chilli No. 5 Chinese Hot & Sour Sauce
Instructions
Next day, using a bamboo steamer, line the bottom tray with bashed Lemongrass, and place the marinated cod over the bashed Lemongrass. Steam for 5 minutes.

Line the next steamer tray with Asian greens and place on the top of the cod.

To make the sauce, gently fry the chopped Ginger, fry for a few minutes, then add the garlic, then the Hot & Sour Sauce with a splash of Soy Sauce. Gently simmer for a few minutes to reduce and finish with some chopped chillies.
Video
Notes
Health benefits from recipe:
Cod​: Great source of low fat protein, rich in B12, significant amounts of iodine.
Greens:​ Rich in Iron
Sweet Potato​: Immunity booster, rich in Beta-carotene, good source of fiber, promotes brain function and gut health, has a low glycemic index.
Superfoods in sauce:
Pineapple​: Treats cold and cough, strengthen bones, good for teeth, prevents cancer, aids in digestion, good for your eyes, reduces symptoms of arthritis, prevents hypertension, reduces risk of blood clots, contain antioxidants, prevents nausea, natural energiser, stress buster, treats acne, anti-ageing properties, prevents pimples, treats black spots, makes hair softer (shinier and thicker), cures inflammation in scalp.
Tomato puree:​ Concentrated source of Lycopene good for prostate cancer prevention, rich in vitamins C, K and Iron.