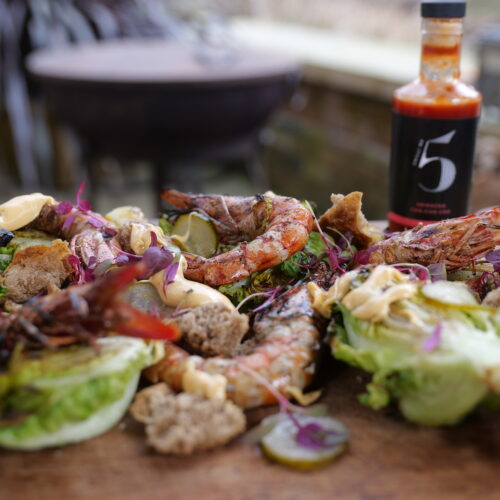 King Prawn Cocktail BBQ Platter With Sriracha Cha Cha Cha
Welcome to Superfood Mondays with Chilli No. 5. 
Bringing the healthiest & tastiest recipes for you to try at home.
This dish is a reimagination of a classic dish we all know and love, the high protein but low calorie king prawns provide the perfect vehicle for all the other flavours. Recycling the shell flavour back into the prawns really gives it a boost.
Using the bbq to cook these elements removes the need to fry and therefore the fats drop down into the coals rather than sit with the prawns, the use of lettuce drives up the vitamin content with baby gem rich in vitamin A.
The recipe brings that sharing party vibe but also has a consideration for all things healthy eating. The flavours within the Chilli No. 5 Sriracha Cha Cha Cha sauce bring a welcome kick of heat to the cocktail sauce adding a refreshing change from the traditional sauce.
Ingredients
For the King Prawns
10-12

Large King Prawns

Middle section of the shell removed but retained

1

tbsp

Salt

1

tbsp

Pepper

80

ml

Rapeseed Oil

1

tbsp

Smoked Paprika

1

Garlic Cloves

3

Baby Gem Lettuce

Slice in half lengthways

1

BBQ Lettuce
For the Cocktail Sauce
2

Egg Yolks

½

tbsp

White Wine Vinegar

½

tbsp

Lemon Juice

1/2

tbsp

Dijon Mustard

250

ml

Vegetable/ Rapeseed Oil

2

tbsp

Chilli No. 5's Sriracha Cha Cha Cha

Salt

Pepper

½

Cucumber Thinly Sliced

80

ml

Water

80

ml

 Rice Wine Vinegar

3

tbsp

Mirin

2

tbsp

Soy sauce

A Few Pink Peppercorn
For the Croutons
200-300

g

Rye bread cut into large croutons

2

tbsp

Rapeseed oil

2

sprigs

Fresh thyme
Instructions
We start by making a flavoured oil to grill the prawns in, heat the rapeseed oil then add the retained prawn shells, garlic and smoked paprika.

The shells will cook and infuse into the oil allow to cool then brush the prawn flesh with this oil ready for the bbq. The prawns should only take a few minutes to cook through over coals.

Add the egg yolk, white wine vinegar, lemon juice to a bowl break up with a whisk and then slowly drizzle in the wild garlic oil whilst continually whisking.

Eventually your mayonnaise texture will form. Stir in your Chilli No. 5's Sriracha Cha Cha Cha season to taste.

Bring the water, vinegar, mirin, soy, and peppercorns to a boil and add the cucumber allow to cool.

Toss the rye bread in the rapeseed oil and thyme before baking at 200c for approx. 12 mins until crispy.

Slice 3 baby gem lettuce in half lengthways.

Simply char these wedges on the bbq to create some nice bar marks.

Serve on a big board spreading all elements out evenly.
Video