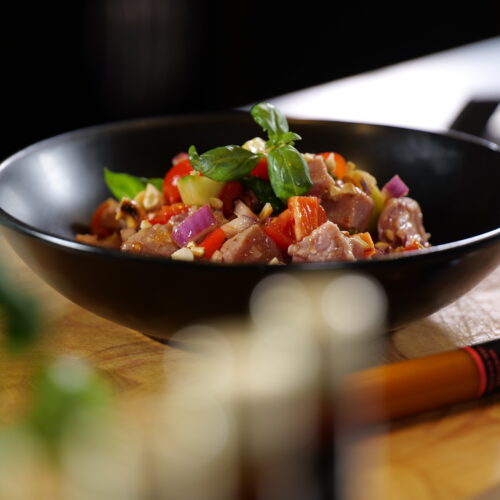 Italian Tuna Tartare
Welcome to Superfood Mondays with Chilli No. 5. Bringing healthy & tasty recipes for you to become your own master chef at home.
Today we celebrate Tuna, with a delicious Italian style tuna tartare. This recipe is a great alternative to your average Tartare with the additions of red pepper, basil, olives, cucumber, and toasted chopped peanuts for added texture. Tuna is a super healthy alternative low fat protein, thanks to its omega-3 fatty acids, making this a brilliant dish for anyone wishing to lead a healthy lifestyle. Additionally, tomatoes are a powerhouse of lycopene, a heart healthy antioxidant. This recipe is the Mediterranean on a plate and works perfectly with Chilli No 5's Siracha Cha Cha Cha hot sauce. Why not add the cha cha to a virgin Bloody Mary to kick start your day.
Equipment
Cooking Ring

Cooking Knife
Ingredients
200

g

Red Tuna

diced 

30

g

Shallot

diced

30

g

Cucumber peeled

diced

10

g

Peanut Toasted 5g

5g garnish

20

g

Baby Plum Tomatoes

diced

30

g

Red Pepper

diced

30

g

Black Olives

chopped

30

ml

Lemon Juice

5

g

Basil Chiffonade

EVO

Olive Oil

1

bottle

Chilli No . 5 Sriracha Cha-Cha-Cha
Instructions
Dice Tuna into 1cm cubes, mix with 30mls of lemon juice and half of the toasted

peanuts.

Sieve the lemon juice off and add finely diced shallots, cucumbers, tomatoes,

red pepper, olives and basil.
Video
Notes
Health benefits from recipe:
Red Tuna:​ Good source of Omega3, B12 (essential for DNA Regeneration), great low fat protein
EVO Oil:​ Rich in Healthy monounsaturated fats, contains large amounts of antioxidants, it's protective against Heart Disease and may help prevent strokes, reduces risk of breast cancer and relieves constipation.
Peanuts​: Blood sugar regulator, rich in healthy fats that help stabilize Cholesterol, fights free radicals in the body.
Basil​: Rich in vitamins A, K and C, calcium, magnesium and Omega3.
Superfoods in sauce:
Red onion:​ helps boost bone density and thus preventing osteoporosis, high in vitamin C, as well as being rich in B vitamins and potassium, minerals, rich in antioxidants, helps reduce heart disease, diabetes and high blood sugar.
Red plum tomatoes:
Great source of lycopene to prevent male prostate cancer and rich vitamins C&K