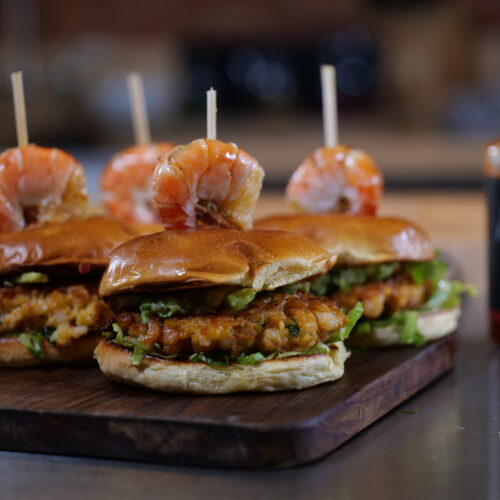 Flaming Hot Shrimp Burgers
Who doesn't love a good hearty burger? Well, this pan-fried version is really going to up your game, made from antioxidant-rich prawn patties that are high in zinc, selenium, copper, and magnesium. 
The prawn patties are infused with superfoods such as ginger, coriander, and garlic, which each offer an incredible host of health benefits, from improving heart health, to helping aid digestion. 
This tasty healthy burger will have young and old coming back for more!
Full of flavor, this recipe works perfectly with Chilli No. 5's Louisiana BBQ hot sauce, which is packed with antioxidants to energise your day, including mustard powder, honey, red onions, and sweet potato. 
This isn't your average meat in a bun!
Ingredients
400 g Peeled and deveined raw shrimp

1

sprig

Fresh Coriander

(small bunch)

10 g Ginger

Grated 

2 Garlic cloves

Grated 

1 tsp Cornstarch 

50

ml

Extra Virgin Olive Oil

1

Shredded Iceberg Lettuce

(1 head)

4 Burger Buns

100

ml

Mayonnaise
1 Bottle Chilli No.5 Louisiana BBQ hot sauce
Instructions
In a food processor add 2⁄3 of the prawns along with the ginger, garlic and minced coriander stalk. Dust with 2 teaspoons of cornstarch and a drizzle of Olive Oil.

Pulse until thoroughly combined and incorporate the remaining 1⁄3 of the shrimp cut in small chunks.

Form 4 patties slightly smaller than your buns and steam through for 10min on parchment paper. (This preparation can be done in advance reserving the pre-cooked burgers for grilling at the last minute).

Toast the buns on a hot pan or BBQ. Finish the burgers by frying in a pan or grill on a barbecue after generously brushing with ​Louisiana BBQ ​hot sauce. Spread a thin layer of mayo on the toasted buns, and finish with shredded Iceberg lettuce, diced onion, and grilled burger patty with extra hot sauce. Serve with fries.
Video
Notes
Health benefits from recipe:
Prawns:​ Goodantioxidants, high in Zinc, Selenium, Phosphors, Copper and Magnesium.
Coriander:​ Cleanses the blood from heavy metals.
Lime juice​: (sauce) Rejuvenates skin and fights infection.
Superfoods in sauce:
Mustard powder​: Good antioxidant fighting free radicals in the body.
Honey​: Best natural sweetener and antioxidant.
Red onion​: helps boost bone density and thus preventing osteoporosis, high in vitamin C, as well as being rich in B vitamins and potassium, minerals, rich in antioxidants, helps reduce heart disease, diabetes and high blood sugar.
Sweet Potato​: Immunity booster, rich in Beta-carotene, good source of fiber, promotes brain function and gut health, has a low glycemic index.